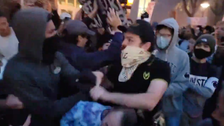 A Pennsylvania State University event featuring Proud Boys founder Gavin McInnes was canceled Monday night after McInnes' supporters attacked students and members of the media.
In the hours leading up to the event — titled "Stand Back & Stand By" and featuring the bigoted gang leader and far-right troll Alex Stein — the Proud Boys and their allies attacked a throng of protesting students and journalists gathered outside the venue. One person, described as a member of the Proud Boys, pepper-sprayed the crowd. Another video shows a Proud Boy fist-fighting with a crowd of protesters.
For weeks, students had been petitioning university administration to cancel the event due to safety concerns. McInnes has a documented history of bringing members of his violent street gang to speaking engagements, where they attack students and protesters.
But Penn State administrators allowed the event to continue on the grounds of constitutionally protected speech.
…
Read more